Image converters help users to convert their images into different formats, so that they can use them on any device. These converters can easily convert images in any conceivable format as per user needs. They also provide a command line utility to enable the automatic processing of images through the software.
In this article, we will learn more about one of the best image converter tools – the reaConverter software.
About reaConverter
reaConvert is an essential utility that enables users to convert images to a multitude of other image formats, such as TIF, JPG, PNG, or BMP simultaneously. Its batch editing ability makes it one of the best converters in the market. This software is a user-friendly GUI application that can execute a wide range of conversions easily and effortlessly.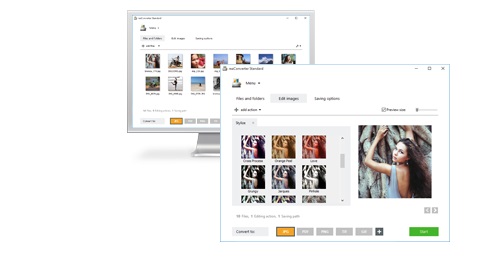 How to use reaConverter?
The user interface, navigations, and controls of the software are designed to be intuitive and self-explanatory. Thus, even a novice can also use it to improve the quality of their images.
The application has a step-by-step procedure to choose the source image files/folders, specify the target image format, as well as organize the editing tasks. Users can enter the image file extensions and the file sizes to add specific files from their selected directory.
Technical Specifications of ReaConverter
Developer: ReaSoft Development
Filename: reaConverterPro-Setup.exe
Category: Multimedia
File Size: 249 MB
Supported Platforms:
Windows Server 2016
Windows 10 32/64 bit
Windows Server 2012 R2
Windows Server 2012
Windows 2008 R2
Windows 2008 32/64 bit
Windows 2003
Windows 8 32/64 bit
Windows 7 32/64 bit
Windows Vista 32/64 bit
Windows XP 32/64 bit
What Types of Image Formats Are Supported By reaConverter?
reaConverter can convert graphic files into numerous formats, such as BMP, AI, DGN, CAL, EMF, DXF, ICO, GIF, PCX, PDF, TGA, JPG, SVG, SWF, PNG, TIF, XBM, WebP, and more.
Highlights of reaConverter:
Here are some of the compelling features of reaConverter software:
The convertor offers batch processing, and image editing features.
It also provides a plethora of editing operations
After creating the source list, the user can move on to the next step, by choosing multiple operations to improve the image quality. Some of these operations are resize, split, rotate, upscale pictures, crop, text watermarks, and overlay images.
Users can also perform color adjustments by modifying brightness, contrast, saturation, hue, color depth, etc.
The software also supports creative retouching by providing various options to the user such as:

sharpen
blur
stylize
shadow
border,
lens correction
selective color change
JPEG artifacts removal

This file conversion software also provides support for shell integration
To accelerate the processing of the tasks, users can integrate the software in the context menu of definite image formats.
The software also provides the facility to change image resolution for enhanced view
Conclusion
reaConverter is a powerful image converter software that offers support for a broad range of functions to meet the requirements of beginners as well as experts. It is the best utility software to convert any image format into a usable form. Its automatic processing saves a lot of time and effort for users.